The true north Idaho P.O.W.
http://www.newsbf.com/news/1108/20regina.html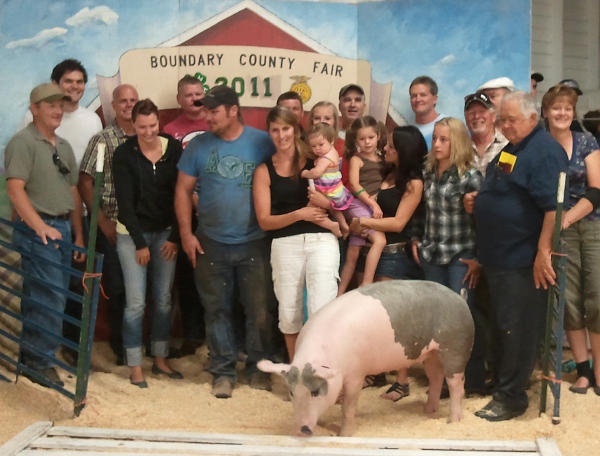 By Mike Weland
newsbf.com

In E.B. White's "Charlotte's Web," Charlotte the spider extolled the virtues of Wilbur, calling him "some pig," in an attempt to save him from the butcher's block.

Had Charlotte been at the fair barn during the 4-H Market animal sale Friday evening, she'd have run out of both web space and words to extol the virtues of Jasmine Hill's 4-H swine, Regina, who sold 15 times, raising a record $19,558, and who in the end was returned to Jasmine.

Like many in attendance, Charlotte would have probably stopped even trying and, like so many who were there, have given in to tears.

It was the way this community showed its support to the family of a man who stood up to defend his wife and six children by killing one of three grizzly bears that wandered into his yard May 8, and is now facing federal charges for doing so.

"There are a lot of people who stand behind Jeremy and his family and we've been talking for awhile about what we could do to show our support," said Rob Pluid. "We're all in the same boat … this could have happened to anyone. The fact that he's willing to protect his family in spite of a federal law speaks highly of Jeremy, and we want him to know we've got his back."

None of the people who planned the show of support dreamed it would take off like it did.

"I've never seen anything like it," Rob said. "I've been buying market animals for 14 years and my kids have been selling for 18, and I've never seen anything take off like that."

Rob does, however, feel sorry for Jasmine's younger brother, Cameron, 11, who also had a swine in the sale.

"We knew we could only pull something like this off once," Rob said, "so we decided to wait for the second pig. We sure didn't want to steal Cameron's thunder."

Regina, weighing in at 254 pounds, brought an initial bid of $4.50 a pound by Fodge Mill, raising $1,143. Fodge turned her, offering her for resale, and she sold a second time, and a third …

Fodge, North Idaho Energy Logs, Pluid Logging, South Hill Lockers, Three Mile Café, Chante' Kramer, Oxford, the Bennett Brothers, Akins Harvest Foods, Escrow Inc., a second time for Three Mile Café, ESCO, a second time for Oxford, and a final time for Chante' Kramer, who gave Regina back to Jasmine. And then Dr. Mark Barker quietly matched the $5 a pound price she settled at, after rising to $6 early in the process.

Jeremy Hill, who faces up to a year in prison, a $50,000 fine and loss of hunting privileges if convicted, knew there were a lot of people who expressed support, but he confessed he was shocked at the form it took Friday evening.

"It's pretty incredible," he said. "I couldn't believe it was going on. It's overwhelming the amount of support."

It must have been dusty in the sale barn, as he had to step outside while the bidding went on and on and on to wipe away a few tears, and there were many who watched the outpouring of support who had to wipe a few sniffles as well.

"I'm not sure what's going on here," the auctioneer said, "but I can tell it's something pretty special."

"It's hard to see the stress this family is under because of this," Pluid said. "Jeremy's been working 15 and 16 hour days since this happened and it doesn't look like he's slept for a month. In my mind, this situation is a lot different than if someone had gone out looking for a bear or someone who mistakes a person for a bear. A bear in your yard, especially a sow and two cubs, is no different than an intruder in your home. That family was in danger, and Jeremy did what he had to do, plain and simple."
A little more about the events
http://www.newsbf.com/news/1108/19grizzly.html
County Commissioners side with defendant in grizzly death​
August 19, 2011
Arraignment for a Boundary County man facing federal felony charges for killing a grizzly bear at his home May 8 has been scheduled for 10 a.m. Tuesday, August 23, in Federal District Court in Coeur d'Alene.
And while County Commissioners have been working with state and federal agencies for years to see the grizzly bear population recover, in this case, they're standing beside the defendant, Jeremy Hill, 33, and have drafted a letter, which is being sent to Idaho Governor C.L. "Butch" Otter, the Idaho U.S. Congressional delegation, and the Idaho District 1 Delegation, seeking to have the charges dismissed.
"In this case, a grizzly sow and two cubs were on Hill's property more than five miles outside any recovery zone," said Commission chairman Ron Smith. "Jeremy and his wife have three young children, and the bears posed a threat to his family. It is the unanimous conviction of this board that Jeremy Hill had not only the right but the obligation to protect his children and his family."
So, apparently, did local Idaho Fish and Game and U.S. Fish and Wildlife enforcement officers, who did not recommend that charges be brought. That recommendation was over-ruled in Washington, D.C., and the charge was filed August 8 by U.S. Attorney Wendy Olson.
If convicted, the penalty for killing an animal listed as threatened under the endangered species act is up to one year in prison and a fine of up to $50,000.