Dec 8, 2004
49,328
21,222
693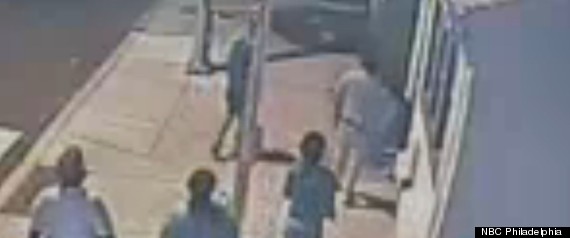 Surveillance footage shows six teens attack a woman in Chester, Pa. Four suspects have been arrested
CHESTER, Pa. — Four teens were being held Friday on $50,000 bail in the taped beating of a neighbor on her stoop "for fun" outside Philadelphia, an attack that was recorded on one of the youths' cellphones and posted on Facebook, authorities said.
Police said the 16- and 17-year-old girls were charged as adults in the attack in Chester on a 48-year-old woman they described as "mentally challenged." The girls were charged with aggravated assault, reckless endangerment, burglary and harassment.
Authorities said the victim was punched, kicked and hit with a shoe and chair, and that she suffered cuts and bruises but no broken bones. She was said to be at a crisis unit.
Investigators are still looking for two other teens in the Tuesday attack, which occurred at a two-story stucco house, down the block from a small grocery. No one answered the door at the building Friday.
"It appears just for fun," Detective James Nolan said. "There hasn't been a discernible explanation as to why."
The footage was first obtained from police on Thursday by the Delaware County Daily Times.
It shows a group of girls walking along before suddenly deciding to attack a woman sitting on her stoop. The teens then followed the victim into her home as she tried to escape, taking turns punching and beating her. They quickly fled.
In the neighborhood where the attack occurred, cashier Crystal Pate said she knows two of the girls – one baby-sits her daughter – and said they were not bad kids.
"I can't comprehend it, I trust her with my daughter's life," said Pate, 29. "Obviously they were showing off. That's not something you do for fun."
The victim, Pate said, regularly sits on her front stoop and sometimes curses people.
Chester is a city of about 30,000 residents that has long battled high rates of poverty and crime.
Link
Turn the phone sideways... eeeeesh