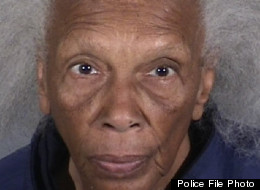 Doris Thompson's
20-page rap sheet dates back to 1955.
The 82-year-old career criminal was
arrested again late last month in El Segundo
for an alleged string of doctors' office burglaries that began in March and netted her $17,000, according to the
Los Angeles Times
.
This time, police said a detective, who had dealt with Thompson before, recognized Thompson from a security camera video from one of her alleged crimes.
Court records obtained by the
Times
show Thompson has been imprisoned at least nine times for burglary in Los Angeles and Orange counties.
The Daily Breeze reports that, in 1957,
police arrested Thompson
in connection with a homicide, but she was deemed insane and committed to a hospital.
Thompson's rap sheet also includes arrests for disturbing the peace, forgery and grand theft. When she was arrested for her latest alleged burglaries, "she advised detectives that her arrest was a case of mistaken identity," Torrance police Sgt. Robert Watt said.
Gawker doesn't see Thompson
changing her ways.
"Even if she beats the rap, it's a safe bet she'll be a similar situation again soon," Taylor Berman writes.
Link
Oh a charming quote from one of the articles linked from here:
Two years ago, the hearing impaired, 5-foot-3 woman who had worked as a nanny, cook and clerk told police detectives that she "wouldn't do all this nonsense if the government gave us more money," a prosecutor said.