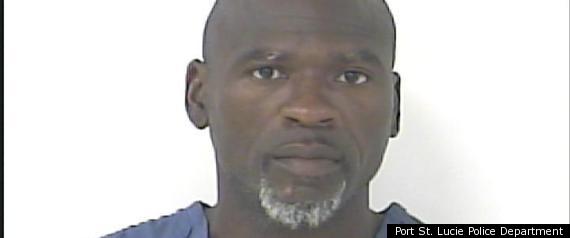 Here's one milestone that hardly calls for celebration.
Florida police arrested a man for the one hundredth time on Thursday, after he allegedly shoplifted $174 worth of socks and underwear.
An employee at a Bealls department in Port St. Lucie says he spotted Joseph Wilson, 50, leaving the retail outlet with merchandise stuffed under his shirt, according to
Broward-Palm Beach NewTimes
.
When police approached Wilson outside the store, they say he jumped into an idle white van and instructed the driver to "take off." But the driver -- a friend of Wilson,
according to MSNBC
-- didn't take off at all, so Wilson fled police through the opposite side of the van.
Wilson actually managed to outrun authorities, only to have his escape thwarted when a witness found the suspect hiding behind a Dumpster and some bushes at a nearby Wendy's.
When authorities confronted Wilson, he allegedly offered the classic "out for a run" routine.
"He told the officers he had been jogging and was out of breath and was just resting," Tom Nichols, Port St. Lucie Police Department spokesman, told
WPTV-5
. Eventually, Wilson explained that he'd fallen on "hard times."
Wilson's first 99 arrests include 37 felonies, 47 misdemeanors, and 15 other charges -- resulting in 35 convictions along the way to reaching the century mark.
Wilson is charged with petit theft and resisting recovery of property. He is being held on $20,000 bond.
Link/Video of Master Criminal
Nice sheet...
http://www.dc.state.fl.us/InmateReleases/detail.asp?Bookmark=6&From=list&SessionID=335210163
06/14/2008 COCAINE - POSSESSION 01/05/2009 ST. LUCIE 0802408 1Y 0M 1D
06/14/1983 MARIJUANA-SALE/PURCHASE 12/15/1987 ORANGE 8305932 2Y 0M 0D
10/03/1983 MARIJUANA-SALE/PURCHASE 12/15/1987 ORANGE 8304744 2Y 0M 0D
11/18/1983 ASSAULT-OTHER 12/15/1987 ORANGE 8401859 1Y 0M 0D
07/29/1988 COCAINE-SALE OR PURCHASE 10/13/1988 ORANGE 8806513 2Y 0M 0D
06/20/1989 COCAINE-SALE OR PURCHASE 11/29/1989 ORANGE 8905943 3Y 6M 0D
04/13/1988 SALE OF COUNTERFEIT DRUGS 08/31/1989 ORANGE 8803084 5Y 0M 0D
01/03/1992 BURGUNOCCSTRUC/CV OR ATT. 05/04/1992 BREVARD 9200161 4Y 6M 0D
10/27/1994 SELL SUBST.INSTEAD DRUGS 02/03/1995 ORANGE 9412211 2Y 6M 6D
04/06/1997 COCAINE - POSSESSION 02/23/1999 ORANGE 9704423 2Y 0M 0D
06/13/2000 COCAINE-SALE/MANUF/DELIV. 12/04/2000 ORANGE 0008100 2Y 3M 0D