Yeah, yeah. It's huffpo.
Rathika Sitsabaiesan, Canadian Parliament Member, Photoshopped (PHOTOS, POLL)
Lord knows
Hollywood is OK with a little bit (OK, a lot) of cleavage
. But Canadian parliament? Not so much.
It was brought to our attention yesterday by
Contrarian, a Canadian political blog
, that rising member of the Canadian parliament Rathika Sitsabaiesan has undergone some quite obvious Photoshopping.
When searched via Google Image, Rathika Sitsabaiesan's name turned up a headshot of her smiling for the camera wearing a white scoop-neck top and a green necklace with a bit of cleavage -- not Christina Hendricks levels, just the average amount for a larger-chested woman.
But
Contrarian
found that
the exact same image appears on Sitsabaiesan's formal Member of Parliament Profile
on the Parliament of Canada website -- sans cleavage.
See the two pictured below. Is this just innocuous touching-up in the name of appropriateness... or messing with someone else's body unnecessarily?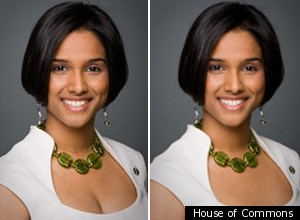 I'd like to enter her house of commons.