Fox News Politics Twitter Account Hacked?
First Posted: 07/ 4/11 12:15 AM ET Updated: 07/ 4/11 12:44 AM ET
Was the Fox News Politics Twitter account (@foxnewspolitics) hacked?
Unusual activity on the news division's account seemed to suggest as much late on Sunday night.
The account's icon had been changed from the Fox News Politics logo and featured the following new description: "H4CK3D BY TH3 5CR1PT K1DD3S."
Below, a screenshot capturing two tweets sent out by @foxnewspolitics on Sunday night: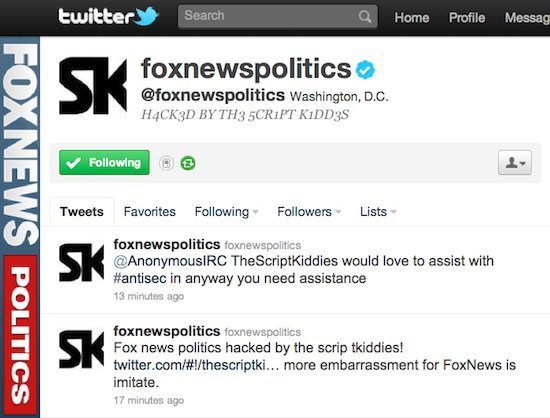 http://www.huffingtonpost.com/2011/07/04/fox-news-twitter-hacked_n_889590.html
Screencapped it. I'm thinking joking about assassinating the prez might not be too smart an idea...