Should have went with the Valtrex infected plague of locusts, but thats just me.
Massive fire erupts on Seaside Park, NJ boardwalk
SEASIDE PARK, N.J. - September 12, 2013 (WPVI) -- Firefighters are battling a massive fire on the Seaside Park boardwalk.
The fire was reported around 2:30 p.m. Thursday in the 1800 block of the boardwalk.
Related Photos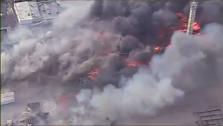 The fire has since grown and has engulfed a number of buildings. Images from Chopper 6 HD showed entire blocks up in flames.
The fire has also reportedly spread to the Funtown Pier.
There was no immediate word on how this fire started.
Seaside Heights Police Chief Thomas Boyd says several firefighters and residents were being treated at the scene for smoke inhalation. The cause of the fire is under investigation.
Kohr's is located on a boardwalk that was rebuilt following extensive damage from Sandy.
Seaside Park is where a roller coaster that was pushed into the ocean during Sandy became an enduring image of the storm.

Link
.