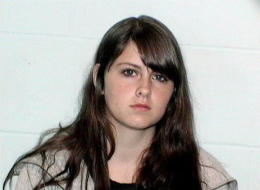 She's really, really sorry, and said it "will never happen again."
A Connecticut babysitter who was charged with having sex with two underage boys two years ago will not serve time in jail.
Loni Bouchard
, 22, was sentenced Thursday to a three-year suspended prison sentence, and two years' probation, according to The Hartford Courant. She is not allowed to have contact with either victim.
Judge David P. Gold told the court that he was "impressed by what appears to me a greater level of maturity" in Bouchard, noting that office of probation and one of the victim's families supported a no-jail sentence.
Bouchard, who
pleaded guilty to three counts of first-degree reckless endangerment
, said that she was "really sorry to the victim and their families" and vowed that it would "never happen again." She originally faced four counts of second-degree sexual assault, and other related charges, but those were reduced in June.
In 2011, Bouchard, then 19, was arrested after the mother of a
14-year-old boy she had been hired to watch
learned that the babysitter was having a relationship with her son and went to police. Under investigation, Bouchard admitted to having previously had a relationship with another 14-year-old Connecticut boy.
Bouchard's attorney later argued that her crimes stemmed from "immaturity" and opportunity, rather than "sociopathic or antisocial behavior."
According to warrants obtained by The Hartford Courant, Bouchard had written in her journal that she was in love with the boy and that the law shouldn't tell her whom to date.
According to the Shoreline Times, Bouchard's
mother pleaded guilty to risk of injury
for allowing the relationship between the victim and her daughter to progress, and providing alcohol and marijuana. She received two years' probation.
Link