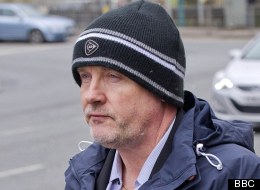 DRAMA teacher Russell Singleton acts the fool in a Boy George costume, but his light-hearted self-mockery hid a dark secret.
Singleton donned the fancy dress costume and joined pupils on stage for a school concert in 2011.
​
But, at the time, he was secretly filming young girls in a bathroom using a two-way mirror.
On Tuesday he was jailed for three years after admitting sex charges that left his victims "violated and degraded".
The secondary school where he worked for 35 years, which cannot be named for legal reasons, said the behaviour of Singleton, of Heanor, left pupils, staff and governors "deeply shocked".
Singleton, 57, secretly filmed 10 teenage girls showering and going to the toilet through the mirror.
He even moved the toilet roll holder at the property where the offences were committed so the girls would have to get off the seat and reach for it while he filmed them.
Nottingham Crown Court was told Singleton also formed a relationship with a 16-year-old girl behind the back of his wife of 31 years.
And it was only when the girl went to the police to tell them about sexual activity he had forced upon her that the full extent of his activity became known.
Police arrested Singleton at his home and seized laptops, memory sticks and other media on which they found 24 videos and more than 300 images.
The court was told how Singleton, before his guilty pleas, was "a highly respected" teacher at the school.
Sentencing him to 38 months in prison, Judge Michael Stokes said: "No-one knew about the more secret aspect of your life.
"On at least one occasion, when a 14-year-old girl was in the shower, you can actually be heard on the film you made breathing. Having been told of your activities, the 10 complainants said they felt violated, disgusted and degraded by what is a severe breach of their trust.
"You formed a relationship with a 16-year-old girl who undoubtedly worshipped you, but I do not regard what happened between you as a relationship.
"This was exploitative behaviour by you."
The teenage victim, who is now 19 and along with the other victims cannot be identified for legal reasons, was in court to hear the sentencing.
Avik Mukherjee, prosecuting, said the victims were aged between 14 and 22 at the times they were filmed in the bathroom of the property.
Police found the two-way mirror when they searched the home in August 2011.
Detective Sergeant Toby Fawcett-Greaves said Singleton gained access to a void where the two-way mirror was located between the bathroom and the airing cupboard, which he accessed from a doorway in the hallway.
The court was told that, on some occasions, Singleton would film the girls "live" and other times the camera was turned on via a motion sensor when the girls walked into the bathroom.
Singleton pleaded guilty to 21 separate counts. They were seven charges of sexual activity when he was in a position of trust; nine of taking indecent photographs; two of making indecent photographs and three charges of voyeurism where he had recorded females for his own sexual gratification.
As well as the prison sentence, Judge Stokes also handed him a lifetime sexual prevention order and banned him from working with children for the rest of his life.
Mark Watson, for Singleton, said his client has "an interest in voyeurism" but never shared the films or images on the internet or showed them to anyone else.
DS Fawcett-Greaves said the victims "demonstrated exceptional courage".
'DIFFICULT AND UPSETTING TIME' FOR SCHOOL
FOLLOWING Singleton's jailing, the school where he worked, which cannot be named for legal reasons, issued a statement in which it spoke of the impact of his crimes.
A school spokesman said: "This has been a difficult and upsetting time for everyone affected by what Russell Singleton has done.
"Staff, governors and pupils were all deeply shocked by his behaviour, his breach of trust and the impact on our pupils, the school and local community.
"We worked closely with the police to help them with their investigation and we're pleased it has now reached a successful conclusion.
"Staff and governors take the safety and interests of our pupils very seriously.
"Parents can be confident that we will take appropriate action where there is wrong-doing and pupils know they can talk to us if they have concerns. We have and will continue to work hard and do all we can to ensure every child is safe when they are at school and in our care.
"Importantly, we will continue to provide a high quality education for all our students so they all face successful futures."
Link