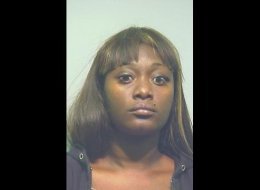 Bail has been set at $250,000 for Ebony Mason, a Chicago woman facing human trafficking charges.
A Chicago woman was hit with criminal charges Friday after allegedly forcing a 16-year-old girl to have sex with strangers.
Ebony Mason, 27, of the 500 block of West 62nd Street,
faces charges of involuntary sexual servitude of a minor and human trafficking for forced labor
, the
Chicago Sun-Times
reports. Her bail has been set at $250,000 and she will appear in court again on Sept. 30.
Prosecutors told the
Chicago Tribune
that Mason
picked up the girl from her home and drove her to a hotel on the 6000 block of North Lincoln Avenue
. There, she took photos of the victim for an online ad on a prostitution website. Police caught her during a sting where undercover officers offered to pay $200 to have sex with the underage girl.
The
Tribune
reports that the girl told the officer she had engaged in sex with several men, while Mason had kept all the money for herself. The girl was taken to the hospital for medical treatment.
Link