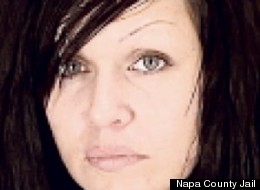 Mistie Atkinson is accused of having sex with her 16-year-old biological son several times, and videotaping the crime.
A Nice, Calif. woman faces incest charges after she allegedly had sex with her 16-year-old biological son.
Police said they found Mistie Atkinson with the boy in a hotel room in March as they were serving a warrant,
the Napa Valley Register reported.
Atkinson pleaded not guilty on March 9 to incest and oral copulation of a minor among other charges.
Napa police said that videos captured on the boy's phone show Atkinson allegedly performing oral sex and having sexual intercourse with the teen in February. She's also accused of sending sexually explicit images to the boy electronically.
"Atkinson and the victim are aware they are biological mother and son," cops said in a release.
The boy's father, who has sole custody, obtained a restraining order against Atkinson,
The Weekly Vice reported.
Atkinson is being held on $200,000 bail until her next hearing on May 10.
Link