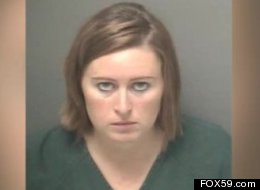 Bethany Appleton, 28, is accused of having sexual relationships with several middle school students.
A Shelbyville, Indiana middle school teacher is accused of having
sexual relationships with several underage students,
the
Star Press
reports.
Bethany Appleton, 28, was arrested on 13 preliminary counts of sexual misconduct with a minor and child seduction among other charges. The incidents allegedly took place between April 11, 2011 and May 12, 2012.
The Shelbyville Central Schools employee allegedly
had sex with at least one victim,
a 15-year-old boy, at her home, according to WBIW.com.
"It just disgusts me," Keith Graham, the father of an incoming Shelbyville High School freshman, told WBIW. "If a female teacher is having sexual relations, allegedly, with students, then you know that teacher obviously has some psychological problems."
An investigation by the Indiana Department of Child Services found that Appleton also provided the
students with alcohol and marijuana,
WRTV Indianapolis reports.
Court documents filed on Wednesday stated that she was "
having high school aged boys
go over to her house for pizza and sex," according to FOX 59.
David Adams, the Shelbyville Central Schools Superintendent, said Appleton's employment ended on Monday.
"[Shelbyville Central Schools] is cooperating fully with the police in the investigation," he said in a statement. "SCS holds its teachers to a high standard of conduct and takes these allegations very seriously."
Appleton pleaded not guilty to the felony charges on Wednesday, according to WRTV Indianapolis. She was released from the Shelby County Jail after she posted a $2,005 cash bond, the
Star Press
reports.
She has a court appearance scheduled for Oct. 3.

Link