Jumbo clash at Thai elephant polo
Friday Aug 30, 2013 | Agence France Presse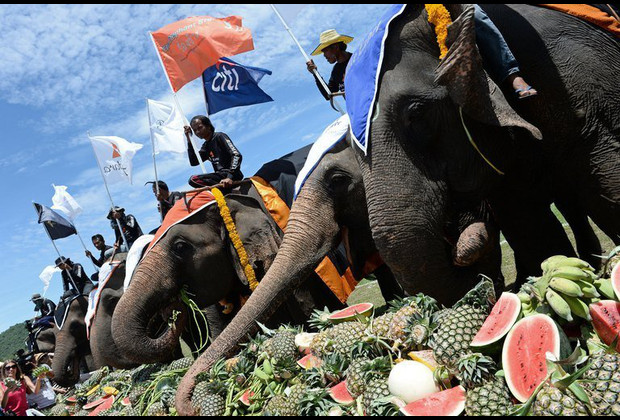 Elephants eat fruit during a break in play at the elephant polo tournament in Hua Hin, Thailand on August 29, 2013
Credit: Christophe Archambault/AFP
NextPrevious
About a dozen teams from around the world, including former New Zealand All Blacks rugby players and transgender beauty queens, are competing in the King's Cup Elephant Polo Tournament in the Thai seaside resort of Hua Hin.
Even polo professionals taking part in the annual event say the pachyderm version is far harder than they are used to.
"The horses naturally move much quicker. The elephants don't actually trot which was a surprise," said Steve Thompson, owner of the Polo Academy in Dubai.
"We thought they'd run a little bit but they just walk very fast and as a result the gait that they use makes it quite unstable, so your hand-to-eye coordination is quite affected on the approach to the ball and of course it is much higher."
The tournament has come in for criticism from animal rights activists, who say elephants in captivity are often mistreated.
"Thailand should be focused on protecting these majestic animals in nature, not exploiting them for a fleeting moment of human amusement," said Ben Williamson of the People for the Ethical Treatment of Animals (PETA).
But the people behind the polo tournament insist the animals -- who spend the rest of the year working in tourist resors -- are well cared for during the event.
"They have a proper vet check up. They are fed. We look after them," said King's Cup organiser Tim Boda.
"If any of these elephants were not in the right condition, or not happy to play, they would be immediately retired. They stay with us for a week, basically a spa holiday in Hua Hin."
The King's Cup -- which raises money for elephant projects across Thailand -- runs until Saturday.
http://www.newsdaily.com/article/72f7e446f99b822e96a1d309e23f65a8/jumbo-clash-at-thai-elephant-polo