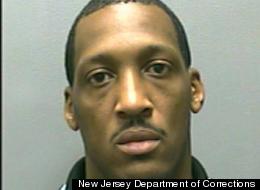 Police arrested a New Jersey man they suspect forced couples to have sex in motel rooms in front of him before he assaulted the women.
Rasheed Powell
allegedly attacked men and women in at least six motels
in Elizabeth and Linden since March, prosecutors said.
Powell, 36, threatened couples at gunpoint to let him into their rooms,
according to CBS New York
. After forcing couples to perform sex acts together, Powell is accused of locking the man in the bathroom and then sexually assaulted the woman.
"Powell is clearly a
sexual predator who acted quickly and viciously
," said Union County First Assistant Prosecutor Albert Cernadas Jr.
In 2010, Powell got out of prison after an eight-year stint for carjacking, reports said. He's also been
arrested for heroin possession
, according to the New Jersey Department of Corrections.
Prosecutors say they linked Powell to the crimes through forensic evidence,
the Star-Ledger reported
. They
arrested him last Monday when he showed up
for a traffic summons in Springfield Municipal Court.
The charges against him include 10 counts of aggravated sexual assault and 12 counts of robbery,
according to NBC New York
. Bail was set at $3 million.
If convicted, Powell could be sentenced to life behind bars.
Link