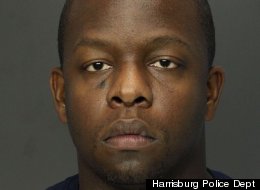 Dajuan Porter is accused of sexually assaulting men by performing oral sex on them as they slept.
A DJ allegedly broke into the homes of men he saw at clubs and parties and performed oral sex on them as they slept, according to police in Pennsylvania.
Harrisburg police said last week that
Dajuan Porter
, 27, stalked three men and sexually assaulted them in their homes, according to WHP-TV.
The first case was reported in May, 2011, by a man who claimed a man fitting Porter's description climbed up through his fire escape, broke in and
began performing oral sex on him,
according to WHP-TV.
In April, 2012, a man told police he went to Porter's home after a gathering and fell asleep
only to wake with the suspect performing a sex act
on him, the
Patriot News
reported.
Another incident was reported in July. The alleged victim attended a party and fell asleep after drinking. He claims that he woke up as the suspect performed a sex act on him.
He too allegedly stopped the suspect immediately, according to police.
An additional alleged victim not included in last week's charges claims Porter molested others. The man, who asked not to be identified, said Porter had been over at his house with mutual friends following a night of partying, but kicked Porter out of his house after the incident.
Porter was charged with three counts of involuntary deviate sexual intercourse, three counts of
sexual assault and burglary,
according to NewsOne.com.
Harrisburg Police Detective John O'Connor believes there may be other cases and asks victims to contact him at at 717-255-3175.
The suspect has been arrested for similar crimes before. Last year, he was charged in Worcester County, Maryland, for sexually assaulting his sleeping cell mate in prison, News One said.
Link
DJ... more like BJ or sumptin...