A Missouri man is leveling allegations against an Ohio-based customer service company,

claiming he's dealing with persistent and explicit acts of racism

in the workplace. And now, he's coming forward with the photos to help his case.

DeAndre Martin, who works for Convergys in Arnold, Mo., told St. Louis Fox affiliate KTVI that

harassing images began appearing on July 11

, when he allegedly received a crude drawing depicting a man hanging from a tree at his desk.

Warning

:

Some readers may find the following images

offensive and disturbing

hilarious (this is Wackbag after all)

.

Below is a photo of the alleged drawing: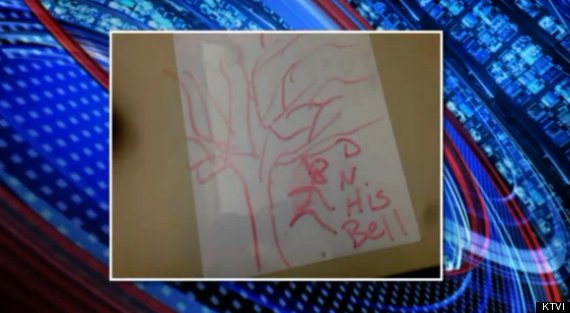 Then, on July 15,
Martin clocked out and went to his car
in the company parking lot, only to find the "n-word," he said, and an image of a noose spray-painted on his car: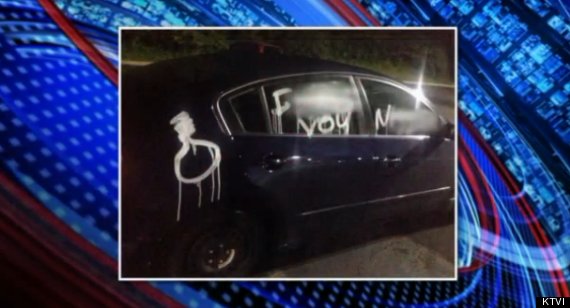 "You see the N-word and then a big picture of a noose, and that's a big deal to me," Martin told the station. "The first time never should have happened, and the second time was over the top. It's always like a shock and awe but then suddenly anger sets in."
Martin said he brought the images to the attention of Convergys management. In a
statement to KTVI
, the company said it is taking the matter seriously, and that it is under investigation. According to the Convergys website, the company
"values individual differences" and seeks to "[foster] mutual respect and communication"
throughout its workforce.
Martin said that the harassment was particularly disappointing in light of "current world events," possibly alluding to the acquittal of George Zimmerman in the shooting death of Trayvon Martin. "What perfect timing," Martin observed.
This isn't the first time allegations of discrimination have been leveled at Convergys. In 2011, the U.S. Equal Employment Opportunity Commission
sued Convergys over religious discrimination
, claiming that the company had violated federal law by refusing to hire a call center worker because his religion forbade him to work on Saturdays.
"Giving an employee an alternative schedule in such a large call center should not be impossible," Barbara Seely, regional attorney for the EEOC St. Louis district office,
said in a statement at the time
. "Refusing to hire a person in this situation without even discussing a possible accommodation for his religion is unlawful discrimination."
Link