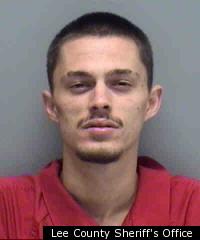 The Hamburgler may steal the occasional patty, but he would never stoop this low.
Florida police arrested a man on Monday after he repulsed McDonald's customers by allegedly holding a 10-minute pimple popping session outside the restaurant chain's
Cape Coral location
, the
Fort Myers News-Press
reports.
When an off duty officer discovered that Port Charlotte resident
Owen Lemire Kato
, 23, was
squeezing his back zits
in front of the McDonald's, he asked the suspect for his name.
Police said Kato, who has an outstanding warrant, gave the name "John Smith" before eventually relinquishing his actual identity. Not exactly lovin' his situation, the pimple popper then allegedly made a run for it.
Another cop eventually tackled Kato and took him into custody. Police allegedly found a syringe in Kato's pocket, which the suspect's girlfriend said he used to inject Oxycontin, according to the
News-Press
.
Kato was charged with providing false identification to a police officer, resisting arrest, and possession of drug equipment.
Link