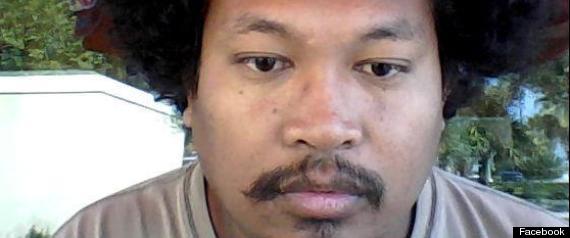 Benjamin "Loves me some of dat child porn" Ashauer was charged with 50 counts of child pornography on Thursday.
He says that he's made plenty of mistakes in his life -- this might be the biggest.
Police arrested Benjamin Ashauer on Thursday morning in Tampa, Fla., accusing him of
looking at child pornography while seated on a bench
outside a strip mall, ABC News reports.
A shopper reportedly noticed Ashauer viewing children in various sexual situations on his computer at about 9:30 a.m. The shopper led police to the 29-year-old suspect, and they asked him if they could see his laptop. Ashauer agreed, and detectives found a "substantial" amount of graphic files depicting children from infancy to about 12 years old.
They discovered enough materials to charge Ashauer with 50 counts of child pornography possession.
Investigators said Ashauer was using a site like "the Napster of child porn," where predators can share and download pictures. He was allegedly using
several Wi-Fi connections at the strip mall
to access the Internet, Bay News 9 reports. Many child predators use open Wi-Fi signals to avoid detection of their home IP address, officers said.
On his Facebook page, Ashauer regularly asks for forgiveness and admits making mistakes, but does not specifically reference the child porn allegations.
"I love God, I have made a lot of mistake [sic] in my life," he wrote on Oct. 11. "I'm not perfect person."
The case is still under investigation, as is Ashauer's computer. More charges are likely.
Link
Enjoy his FB...
https://www.facebook.com/benjamin.ashauer?fref=ts
Hi my name is Bro. Benjamin Ashauer I love God, I made mistake in my life, I'm not perfect person, I attend church here in Tampa,FL Underground church I love to read bible, bible study