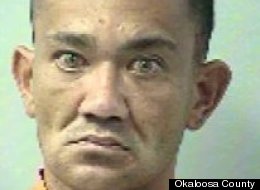 John Earl Eutzy
This isn't your typical meat spin.
John Earl Eutzy, 37, is accused of taking himself for a spin outside a convenience store
in Fort Walton Beach, Fla., the North West Florida Daily News reported. And no, it was not a Kum & Go.
Police say Eutzy was standing outside the store Tuesday when he unzipped his pants and began masturbating. When he started, he was facing the store, but then rotated his body so that he was facing the road, then turned back towards the store. According to the NWF Daily News, Eutzy "changed his position several times."
Deputies also noted that a witness had to escort a woman and frightened child to their car.
Eutzy, who authorities say was intoxicated, was charged with lewd or lascivious exhibition.
Apparently convenience stores are especially convenient for picking up a public masturbation charge. In February, police said a man caught masturbating outside of a Pennsylvania convenience store told them
his penis was only out because his pants had shrunk.
An even more convenient place to get arrested for public masturbation is right at the police office.
Darrell Moore allegedly demonstrated this in July
, when Omaha cops say he waltzed into police headquarters, claimed he witnessed a murder, then promptly began masturbating.
Link
What a jerk... tsss tsss