[h=1]Zikomo Peurifoy Tasered Three Times After Allegedly Jaywalking
[yt]4y4jFi0wLIQ[/yt][/h]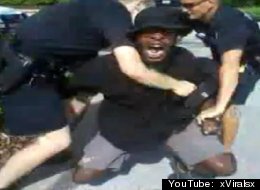 Florida police allegedly Tasered a man several times after he was
caught jaywalking.
Zikomo Peurifoy was stopped by Casselberry, Fla., Police for allegedly ignoring crosswalk signals, according to WFTB. Peurifoy was Tasered three times during the encounter.
The use of force garnered lots of attention after a video of the incident was released online. But police told the station that the officers' actions in the above video are so textbook, the clip is being used as an example of perfectly appropriate use of force.
In the video, when an officer asks for Peurifoy's ID, the alleged jaywalker refuses to give it to him.
"It's not a lawful command," Peurifoy says.
Then things get a lot worse.
An officer warns Peurifoy that he will be Tased if he doesn't submit to handcuffs. Peurifoy then appears to be Tasered once, and twice more when he tries to walk away. After the third zapping, Peurifoy falls to the ground and is handcuffed.
"You just committed a crime. You assaulted me with a Taser," Peurifoy says on the video.
But it was Peurifoy who was arrested and charged,
according to ABC.
He was slapped with resisting arrest and battery on a law enforcement officer.
He also
got a ticket for jaywalking.
Peurifoy's friend, Noelle Price, who can be heard on the video repeatedly telling the police to "get your supervisor," was arrested and charged with resisting an officer without violence because she refused to give police her full name, ABC reports.
Casselberry police did not immediately return calls for comment from The Huffington Post.
Past incidents have proven that suspected jaywalkers are not immune to physical violence from law enforcement.
In June, 2010, video footage emerged of a
police officer seemingly punching an alleged jaywalker in the face.
Link
I'm not a cop but methinks he is resisting...
Edit... the HuffPo left out this little nugget...
Officers searched Price's backpack and found brass knuckles, a firearm, pepper spray and a knife, Del Rosso said. The backpack arsenal resulted in an additional charge of carrying a concealed weapon. Price, unlike Peurifoy, did not have a permit to carry a weapon.