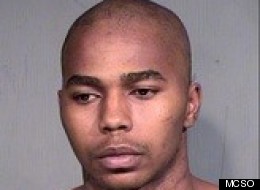 Anthony Houston
Authorities in Arizona arrested a man who allegedly shot a father and his two children after vomiting on the victims' dog.
Phoenix police say a 41-year-old man was walking his dog around 10 p.m. Tuesday night when
Anthony Houston
, 22, threw up on the animal from his second floor balcony, WNEM reports.
As the dog owner returned to his apartment, he and Houston argued. That's when the incident turned violent.
AZ Family reports:
Just as the dog owner got to his door,
the suspect pulled a gun and opened fire
, hitting the victim several times in the torso. The victim fell through the door into the living room. The victim's 14-year-old daughter and a 9-year-old family friend, both of whom were in the living room when the suspect started shooting, were wounded by stray bullets.​
Houston fled the scene, but was later arrested by police.
The dog owner was
taken to a nearby hospital
where he is in stable condition, the Associated Press reports. The children suffered non-life threatening injuries.
Houston is charged with three counts of aggravated assault, discharging a firearm at a residence and endangerment.
Link...
Ummmm... err... ok