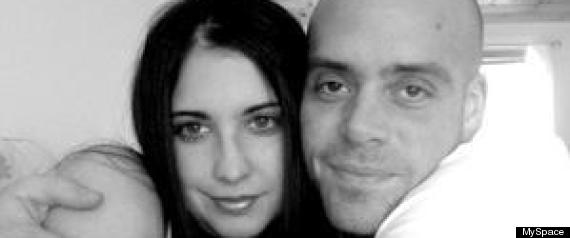 An undated photo of Barbara and John Tassinari from his now defunct MySpace profile.
A Massachusetts man convicted of first-degree murder for shooting his wife more than a dozen times with two handguns will not get a new trial, the state's highest court has ruled.
John Tassinari, of Abington, was convicted in November 2010 of killing his wife, 29-year-old Barbara Tassinari. He was sentenced to life in prison without the possibility of parole.
In his appeal, Tassinari argued that autopsy photographs of his wife's body shown in court had been unduly prejudicial. He also claimed the trial judge should have excluded testimony from his wife's best friend and her sister-in-law. The two claimed there was hostility in the couple's marriage and said Barbara Tassinari wanted to get a divorce,
according to court documents
.
Police were alerted to the crime on April 22, 2008, moments after Barbara Tassinari was shot and killed.
"My wife has been cheating on me, and I just shot her dead. Please come arrest me," John Tassinari, then 29, told an Abington police dispatcher, according to trial testimony.
It was later alleged that the couple had been arguing and Tassinari had accused his wife of cheating on him. During the argument, Tassinari shot her dead in the driveway of their home. An autopsy revealed she had been shot 18 times, with a .45-caliber and a .40-caliber handgun.
After placing the 9-1-1 call, Tassinari was confronted by his brother-in-law, Frank Scolaro, who lived on the same street and came running over when he heard the gunshots. When Scolaro saw what had happened, he pointed his own .32-caliber handgun at John Tassinari, police said.
Scolaro held Tassinari at gunpoint until investigators arrived and took Tassinari into custody. Scolaro, who was a licensed gun owner, was not charged.
According to prosecutors, John and Barbara Tassinari married in November 2004 and had one young child together. They had no prior history of trouble with the law.
In his now defunct MySpace profile, John Tassinari described himself as an engineer, firearms safety instructor, and a proud parent.
"Besides my family, I love cars, guns, motorcycles, vodka, and A/V equipment. As a Virgo, I get too wrapped up in the small details of life, and Barbara helps me remember to step back and enjoy it all. Thanks honey," he wrote.
The heading on the profile read "rope is the hottest lingerie" and the background image was of a woman in leather lingerie standing against a wall.
In the aftermath of the shooting, Barbara's friends and family members told authorities John Tassinari was obsessive and controlling. They claimed he managed every aspect of his wife's life.
When the case went to trial, John Tassinari did not deny killing his wife. The defense called the slaying a crime of passion, alleging he "snapped" when his wife told him she had been having an affair.
"The defendant in this case is guilty of manslaughter, and the evidence will show that," defense attorney William Sullivan told the jury of nine men and seven women.
Plymouth County Assistant District Attorney Donna Riordan disagreed with the defense. She called the killing an "execution" and presented a case of cold-blooded murder to the jury.
"As Barbara Tassinari is face-down on the driveway, he starts shooting and shooting again, until he knows she is dead," Riordan told the jury.
A Plymouth Superior Court jury ultimately sided with the prosecution and on Monday the high court concurred with their decision and rejected John Tassinari's arguments.
Link
Gathering he didn't have a Hi Capacity permit...