Jan 25, 2006
33,621
4,413
578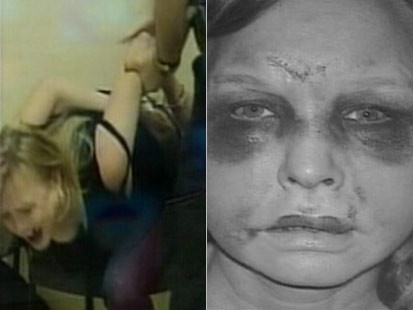 A Shreveport woman claims an officer physically abused her while she was in custody. The officer, who turned off the camera during part of the booking, has been fired and is appealing his dismissal.
Police Brutality or Slip and Fall?
Fired Officer Says Women Fell, but She Says He Beat Her When Camera Was Off
By DAVID MUIR, KIRAN KHALID AND IMAEYEN IBANGA
Feb. 19, 2008 —


A Louisiana police officer was fired after a woman, who was pulled over on the suspicion of a DWI, ended up with two black eyes and bruises to her face while in police custody in November.


What makes Angela Garbarino's injuries and situation more curious is the fact that Shreveport police Officer Wiley Willis turned off the interrogation-room camera after he and Garbarino exchanged words.


The video shows Garbarino requesting a phone call.


"You're not going to let me call anybody?" she asks on the video. "I have a right to call somebody right now and I know that. Is this on the record?"


The footage documents Wiley attempting to read Garbarino her rights, but he runs out of patience and things get tense. He seems to forcefully put her in a chair.


"Don't touch me again. Get away from me," Garbarino says after a scream.


Then, Wiley walks over to the police camera recording the booking and turns it off. What happens next is a mystery, but when the video resumes the handcuffed Garbarino is sprawled on the floor and silently lying in a pool of her blood.


Another officer arrives and takes a cursory look before Garbarino is wheeled out on a stretcher. In addition to her bruised face, Garbarino's injuries also included two broken teeth.


While Garbarino says Wiley physically abused her, his attorney said what he did was "in accordance with normal practice."


"The suspect again tried to leave the room. In the process of stopping her, she fell and injured herself," said Eron Brainard in a statement to ABC News.


Wiley is appealing his dismissal and police have not brought charges against him because no one knows for sure what occurred.


Meanwhile, Garbarino faces reckless driving, hit-and-run and DWI charges. She has denied the charges.


A Shreveport police spokesperson said no specific law about the phone call exists, but typically suspects are processed, booked and then allowed to make a phone call.


But at least one expert said at the very least Wiley should have called for a female backup.


"I think we have a situation where the arrested person is refusing to cooperate and the police officer apparently overreacted," said Tulane University forensic criminologist Wade S. Schindler.


Copyright © 2008 ABC News Internet Ventures
Sure she seems like the biggest cunt out there, but cmon. This is sick.
I like how the camera goes off, and then it turns back on with a pool of blood on the floor.
She slipped...:icon_roll
I've slipped before, but it never resulted in two black eyes and a broken nose and cuts.
I was listening to Mancow on Fox and Friends going off on this, first time I agreed with him on something.
http://www.abcnews.go.com/GMA/story?id=4309643&page=1
Video.
http://www.abcnews.go.com/Video/playerIndex?id=4310214