Mother Angered By Classroom Haircut
Posted: Feb 12, 2013 6:36 AM PST
Updated: Feb 12, 2013 6:36 AM PST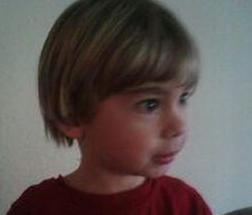 FROM KIROTV.COM/PUYALLUP, Wash. - A Sunrise Elementary teacher's aide was put on administrative leave following allegations that she cut a preschooler's hair in class.
The mother of the 4-year-old boy, Celeste Caldwell, says her son Zen wore a hat in shame after receiving the haircut.
"He was saying don't be mad at me mommy, don't be mad at me mommy," Caldwell said. "That's what angers me, is that she violated him in a way that he shouldn't have had to worry."
Caldwell channeled her anger by speaking out to KIRO 7 Eyewitness News reporter David Ham.
"She took him into a bathroom to cut his hair, singled my child out," she told Ham. "Yes, it angers me."
Caldwell said she first allowed the preschool teacher's aide to cut her son's bangs for a school picture last fall.
A month later, her son came home with a full haircut. The teacher's aide had even styled a tail in the back.
"I was very clear with her and said, "Hey, I got this. You don't need to be trimming his hair anymore."
When it happened again, Caldwell went to the school's principal and the teacher's aide was put on paid leave during an investigation.
The Puyallup School District also contacted police about the investigation. It is not clear if any criminal charges will be pursued.
http://www.khq.com/story/21133970/mother-angered-by-classroom-haircut
ZEN!!!???!!! Ewwwwwwwwwwwwwwww.