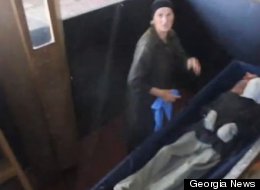 In some cultures, it wouldn't be considered strange for a mother to take care of her son for 40 years. However, it might seem a little weird if he were
dead for almost two decades
.
After Joni Bakaradze died at age 22, his family in the Eurasian country of Georgia decided against interring him, and instead
preserved his body as a mummy
for 18 years. His mother, Tsiuri Kvaratskhelia, told Georgia News that the decision was made so that her son's child could "see what kind of father he had."
Bakaradze's body has been kept in a coffin
with what appears to be a viewing window. Kvaratskhelia told the station that the family at first used traditional methods, including balsam sap, to preserve the body. More recently, she claims to have switched to spirits -- and we're not talking spells and incantations.
"I had a dream once. Somebody was telling me to wake up and start using vodka to care for the body," Kvaratskhelia said in an interview. "I have been using... spirit liquid poultices since then. You must not leave the body without them during [the] night, because it will turn black."
Mummification is perhaps best known as a
burial practice of the Ancient Egyptians
, but other cultures in
South America
and Asia have practiced it throughout history.
In 1920, the body of
Rosalia Lombardo
, a 2-year-old Italian girl who died of the flu, was ordered preserved by her grieving grandfather. Although it began to show some signs of discoloration recently, the girl's body
remains remarkably preserved
.
Link
Hmmm I guess I have been self preserving for years...