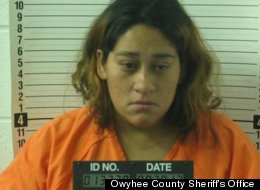 Veronica Herrera was sentenced to 30 years after killing and burning her daughter's body
An Idaho woman who killed her baby, then burned it over the course of two days to destroy the evidence, could face up to 30 years in prison.
Veronica Herrera, 29,
pleaded guilty in April
to involuntary manslaughter and five other felony charges in the death of her 2-year-old daughter, Nakita.
Judge Thomas J. Ryan imposed a
15-year fixed sentence
on Thursday, with another indeterminate sentence of 15 years, KTVB reported.
Herrera told investigators her daughter fell off her toilet training seat, hit her head on a heater and later died from her injuries. In an effort to cover up the death, prosecutors said Herrera burned the child's body in a barrel, dousing it with lighter fluid over the course of two days. The mother even
enlisted her other children to help
, making them throw trash in the barrel, according to a police report.
Judge Ryan referred to the crime as unusual and brutal.
"We don't know if anything more sinister or evil was going on because Herrera destroyed the evidence," Ryan said.
Dr. Paul McPherson testified that before Nakita's death, there was evidence that the child suffered bruising in many places on her body, a severe burn, and malnutrition while in her mother's care.
Court documents show Herrera, who was a former meth addict, told detectives she didn't tell anyone Nakita had died because she "didn't want to lose her children."
Herrera will be unable to have access to her five other children without approval from state counselors.
Link