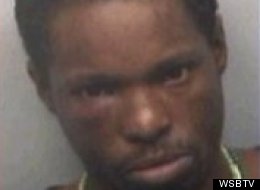 Murder suspect, Quinton Jones was mistakenly set free from a Georgia jail two weeks ago after a paperwork error.
A manhunt is on for a murder suspect mistakenly set free from a Georgia jail.
Quinton Jones, 32, was scheduled to go on trial
Monday morning for the June 2011 murder of
29-year-old LaMarice Westbrook, WSBTV reports.
When Jones was a no-show, authorities realized that he had walked out the door of the Fulton County Jail two weeks previously.
"It's kind of hard for us to find sleep at night knowing we have a murderer walking around that hurt a family member," Westbrook's brother, Stoney Jackson, told WSBTV.
Jones' release was the result of a paperwork error, though the Fulton County Sheriff's Office and district attorney disagree over who is at fault.
The district attorney claims he added additional charges to Jones' indictment and re-arraigned him. They say they then dead-docketed his old indictment, meaning that the prosecution was marked as being postponed indefinitely.
Officials with the Sheriff's Office maintain that they saw papers identifying Jones' case as dead-docketed, but that they never received the new documents stating he had been re-arraigned. They also say they were court-ordered to release Jones from jail.
The victim's family is uninterested in squabbling about blame.
"
I don't care who messed up,"
Westbrook's sister told Fox 5. "I don't care who messed up in the system. Fix it, get him back, try him."
A
sheriff's office fugitive unit is combing the area for Jones
, who is facing charges that include murder, felony murder and aggravated assault with a deadly weapon, the Atlanta-Journal Constitution reports.
Link
Whooopsie...