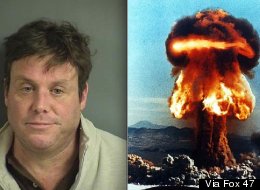 William Bliss told cops that four men made him carry a nuke -- but he later admitted to being drunk.
His excuse was a dud.
A drunk, naked Iowa City man claimed during his arrest on Monday that four unknown assailants forced him to carry a nuclear bomb.
Johnson County cops were responding to a report of a naked man at about 3:30 a.m. when they found 41-year-old William Bliss, who was "excited" and allegedly smashed at the time,
the Press-Citizen reported.
Bliss was allegedly stumbling around near his apartment, but made a break for it after he made the wild nuke claim, cops said. A chase ensued, and one officer was injured as Bliss was taken down.
The nude nuker allegedly had a blood-alcohol level of .111 when he got to jail. He admitted that he'd had nine beers and had been drinking vodka throughout the day,
according to Fox 47.
Bliss was slapped with charges of interfering with and injuring an officer and public intoxication.
Cops didn't find a nuclear bomb.
Link