I am obsessed with weird inventions; the stranger and more useless, the better. Post any strange/useless/ridiculous patent ideas you can find.
Here's a few:
The Bird Diaper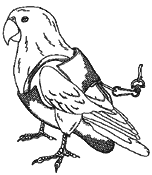 A bird diaper for an uncaged pet bird to wear, featuring an enclosed pouch for receiving and containing excrement, and apertures to accommodate both the wings and the tail of the bird. Elastic straps and hook and loop fastener components (e.g., VELCRO) secure the diaper onto the body of the pet bird without restricting movement. The bird diaper is fabricated from spandex (e.g., LYCRA) or another stretchable, lightweight material, allowing absorption of bird excrement to prevent leaks and facilitating easy cleaning using soap and water. The bird diaper can incorporate decorative designs, bright colors and is available in different sizes. The bird diaper also has a leash which is insertable within the hook and loop fasteners. The leash serves to restrain or limit the bird's area of free flight.
http://www.delphion.com/details?pn=US05934226__
The Beerbrella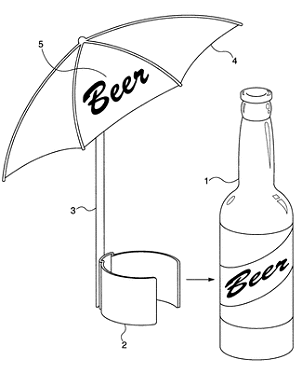 The present invention provides a small umbrella ("Beerbrella") which may be removably attached to a beverage container in order to shade the beverage container from the direct rays of the sun. The apparatus comprises a small umbrella approximately five to seven inches in diameter, although other appropriate sizes may be used within the spirit and scope of the present invention. Suitable advertising and/or logos may be applied to the umbrella surface for promotional purposes. The umbrella may be attached to the beverage container by any one of a number of means, including clip, strap, cup, foam insulator, or as a coaster or the like. The umbrella shaft may be provided with a pivot to allow the umbrella to be suitably angled to shield the sun or for aesthetic purposes. In one embodiment, a pivot joint and counterweight may be provided to allow the umbrella to pivot out of the way when the user drinks from the container.
http://www.ipwatchdog.com/op_beerbrella.html