It has all the elements of international intrigue: a violent confrontation on a detained North Korean ship, a suspected missile onboard, a heart attack and an attempted suicide.
Panamanian authorities on Tuesday were examining mysterious objects found aboard a ship headed from Cuba to North Korea, officials said.
The objects, discovered late Monday during an anti-drug inspection, appeared to have been hidden among a cargo of brown sugar, officials said.
Because it is
pursuing nuclear weapons
, North Korea is banned by the United Nations from importing and exporting most weapons.
Few details of the confrontation were available, but the ship's North Korean crew of 35 resisted arrest, said Panama's security minister, Jose Raul Mulino. He described it as "violent," saying that the crew tried to sabotage the ship by cutting cables on the cranes that would be used to unload cargo.
As it is, authorities now have to remove 255,000 sacks of brown sugar by hand, Mulino said.
During the struggle with Panamanian authorities, the ship's captain suffered an apparent heart attack and then tried to kill himself, according to President Ricardo Martinelli.
The crew also refused to raise the ship's anchor, Mulino said, forcing Panamanian authorities to cut the anchor loose to move the ship.
The situation was intriguing enough that Martinelli himself traveled to the ship to take a look -- with reporters in tow.
Is it a missile? a reporter asked.
"Maybe," Martinelli said. "I am not familiar with that, but it would be good if such things didn't pass through Panama, which is a country that loves peace and not war."
The president
tweeted a photo
of what he saw: a green octagon-shaped tube with a cone at its end and a similar-looking piece of equipment behind it. A defense analysis website identified the photo as radar equipment for a surface-to-air missile system.
As of Tuesday, authorities had not identified the weapons or their country of origin, Mulino said. Those details would not be known until all the sugar was unloaded and the objects removed from the ship.
Martinelli said he didn't examine all the containers but assumes that there are similar weapons in the others, hidden under the sugar.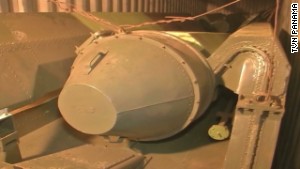 Weapons seized from North Korean ship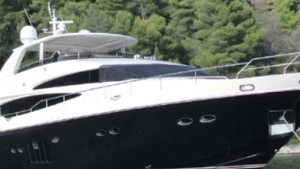 Kim Jong Un tours coast with $7M yacht
Authorities seized the vessel and the undeclared haul of weaponry in the Panamanian port of Manzanillo.
Mulino said the ship had arrived from Cuba.
Investigators spotted the boat going through the Panama Canal to Havana and then back toward the canal, according to two senior U.S. officials who said the United States had been tracking the ship along with the Panamanians for some time.
Another senior U.S. official said the United States had been tracking the ship for several days and knew that Panamanian authorities were going to stop it.
State Department spokesman Patrick Ventrell declined to describe U.S. interactions with Panama concerning the ship but noted that the vessel has a checkered past connected with drug smuggling.
"Public reports from 2010 and also a U.N. panel of experts report from 2012 cite this history," he said Tuesday. "So this vessel has a well-known history in this regard."
Cuban officials have not responded to requests for comment.
Cuban state media reported late last month that North Korean army Chief of Staff Gen. Kim Kyok Sik visited the island and had high-level meetings, including one with Cuban leader Raul Castro.
In the United States, Rep. Ileana Ros-Lehtinen, R-Florida, described the incident as "serious and alarming" and a "wakeup call" for the Obama administration to avoid normalizing U.S. relations with Cuba.
Panama said it will ask a United Nations technical support team to inspect the cargo to determine what type of weaponry it is.
"Honestly, this kind of military equipment can't go through the country while declaring that it is something else, especially hiding it as you can see here," Martinelli said. "We will continue to empty the entire ship to see what's in it, and the relevant authorities will determine what exactly is on this ship."
Military analyst IHS Jane's
released a statement Tuesday identifying the equipment shown in the photos as "fire control" radar equipment for surface-to-air missiles.
Jane's proposed two theories why the equipment was on board the ship. "One possibility is that Cuba could be sending the system to North Korea for an upgrade. In this case, it would likely be returned to Cuba and the cargo of sugar could be a payment for the services," the Jane's statement said.
Jane's other theory was that "the fire-control radar equipment could have been en route to North Korea to augment Pyongyang's existing air defense network. North Korea's air defense network is arguably one of the densest in the world, but it is also based on obsolete weapons, missiles and radars."
North and South Korea inch toward reopening joint complex
This isn't the first time North Korea has been linked to shipping suspected of transporting weapons materials.
In 2011, the U.S. Navy tried -- and failed -- to gain permission to board a ship in the South China Sea suspected of carrying illicit weapons technology to Myanmar,
the Pentagon said
. The Belize-flagged MV Light was believed to have been manned by a North Korean crew, the Pentagon said. Under U.S. Navy surveillance, the vessel eventually turned around and headed to North Korea.
In 2007,
the Pentagon confirmed that several shipments
of suspected weapons technology had left North Korea destined for Syria. The Pentagon said some of the material was believed to have been high-grade metals that could be used to build missiles or solid-fuel rockets.
CNN
reported in 2011
that an unpublished U.N. report claimed North Korea was trading banned weapons technology with several countries, including Iran.
http://www.cnn.com/2013/07/16/world/panama-north-korean-ship/index.html?hpt=hp_t1