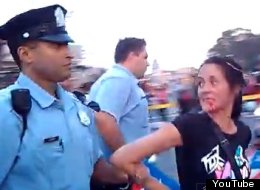 An unidentified woman is led away after allegedly being punched in the face by a Philadelphia police officer.
Footage in which a police officer appears to punch a woman after she threw something toward a group of police is causing controversy on the Internet today. ABC News reports that
Philadelphia police are investigating
.
The video, which was
uploaded to YouTube
by user "Gisela Valentin" on Sept. 30, looks to have been taken during Philadelphia's
Puerto Rican Day
parade on Sunday. In it, about two people in the crowd appear to throw liquid on a group of police officers. But one officer's reaction has drawn criticism and claims of police brutality.
At the beginning of the clip, a woman in a black T-shirt to the left of the frame can be seen throwing what appears to be water or
possibly silly string
in the direction of a group of officers. Moments later, an officer comes after the woman and appears to
punch her in the face without warning
. The force of the blow knocks the woman to the ground, where she is quickly handcuffed by the same officer.
The
video was posted to Reddit on Monday morning
and quickly rose to the front page of the social news site.
Although the initial headline professed the woman's innocence and called the officer's reaction a "sucker punch," closer observation on the part of users revealed that the woman in question looks to have thrown something toward the police.
This action was further clarified by user "_repost_" who made several
animated gifs highlighting the woman's actions
. Despite the woman's behavior, many Redditors said that the officer's use of force was inappropriate.
The International Digital Times called the incident a "completely and utterly disgusting"
case of police brutality
.
The woman appears to be bleeding from the mouth as she is led away by police. Her identity has not been released.
Link
She won't do that again...