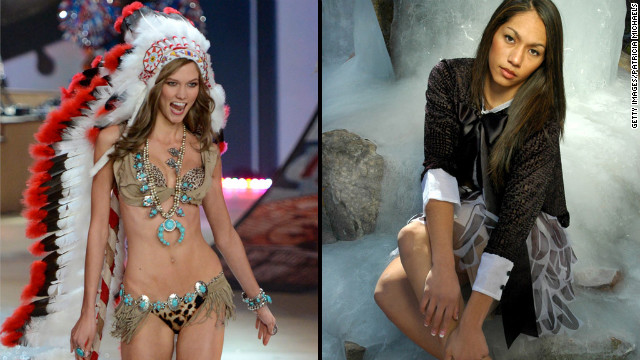 (CNN) -- This November, events nationwide celebrated the traditions, fashion and food of the nation's 566 recognized Indian tribes as part of Native American Heritage Month.

But a few high profile missteps surrounding the use of indigenous cultural imagery made bigger national headlines than any heritage month event.

First it was the release of No Doubt's Wild West-themed music video "Looking Hot," featuring teepees, fire dances and singer Gwen Stefani on horseback, a feather crowning her long blond braids. Then, supermodel Karlie Kloss walked the runway in a floor-length feather headdress, skimpy leopard-spotted bikini and turquoise jewelry at the Victoria's Secret Fashion Show.

Both instances sparked allegations of "playing Indian" for profit, leading No Doubt and Victoria's Secret to publicly apologize. The gaffes also reignited debate over where to draw the line between cultural appropriation and appreciation and the extent to which non-Natives should represent Natives in mainstream media and pop culture.

The conversation is important, because acts of cultural appropriation are not simply isolated incidents of "hipsters in Navajo panties and pop stars in headdresses," said Sasha Houston Brown, a member of the Santee Sioux Nation of Nebraska. They are byproducts of "systemic racism" that perpetuate the idea that there's no such thing as contemporary Native culture.

"Despite what dominant society and mainstream media say, Native culture is a vibrant and living culture. We are not a relic of the past, a theme or a trend, we are not a style or costume, we are not mascots, noble savages or romantic fictional entities," Brown said in an editorial for the blog Racialious, "Nothing Says Native American Heritage Month Like White Girls in Headdresses."
http://www.cnn.com/2012/11/30/living/native-american-fashion-appropriation/index.html?hpt=hp_c1
So I guess it would be a huge problem if Natives wanted to dress up as cowboys? Or vikings? Or Samurai or any other historical figures?