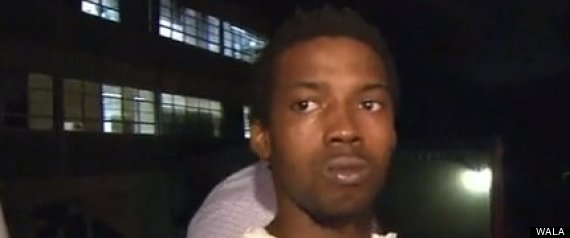 Razellius Mills was charged with murder after allegedly stabbing a man at a group home and then ripping out his intestines
He entered an Alabama group home as a burglar, and he left as an alleged murderer.
That's what police are saying about 20-year-old
redacted
Mills, who's charged with
stabbing group home resident Derrick Woods
and ripping out his intestines, according to WALA.
Court officials in Mobile are still trying to figure out what prompted the gruesome attack last Tuesday.
Mills had been transferred to the halfway house on Oct. 31
, following his attempted suicide after a third-degree burglary conviction, Alabama Live reports.
Prosecutors told district court Judge Charles McKnight that Mills cut Woods across his midsection with a knife, pulled out the 32-year-old's innards and cut them. When asked if he wanted more details of the attack, McKnight said, "I really don't. I think it speaks for itself."
Group home employees said it was the facility's first homicide. One staff member was reportedly cooking for residents when he stumbled upon Woods' body.
Mills was charged with murder and
denied bail on Friday
, CBS News reports. He has no prior violent incidents on his record, though he's been slapped with trespassing and burglary charges before.
Link