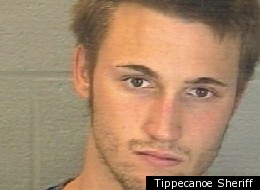 A 19-year-old West Lafayette man faces two felony charges after he allegedly beat his girlfriend senseless using a Shake Weight dumbbell.
Police say that on Nov. 9, Jonathan T. Noe violated a previously established protective order and attacked his former girlfriend after returning to her apartment following a party,
The Lafayette Journal & Courier reports
.
The protective order, filed June 22 in Porter County, was intended to safeguard the victim and keep Noe from abusing her.
Authorities discovered the victim with her eyes swollen shut, at least four teeth knocked inward, and her mouth too swollen to speak, according to
local Fox affiliate WXIN-59
.
Police later found Noe sitting intoxicated on the couch at his apartment.
Police charged Noe with felony counts of battery by means of a deadly weapon and strangulation. He also received a misdemeanor invasion of privacy charge.
Link