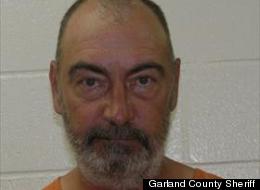 Randy Gay
A man twice convicted of murder -- and twice released on early parole -- is accused of slaying a 49-year-old woman and leaving her body in the wilderness.
Randy Gay
, 51, appeared in court Monday to face first-degree murder charges for the death of Connie Snow, found deceased in the
Ouachita National Forest
in May 2011, THV 11 reports.
Gay, convicted in 1978 of murdering his father-in-law and again in 1991 for the death of his own father, had been free from prison for over a decade. Then, police say he struck again.
According to FOX 16:
​
According to the witnesses in the affidavit, Gay and a woman had driven up into the wooded area around 6:29pm on Tuesday, May 10th, [2011]. The witnesses say they [were] working on logging equipment at the time when Gay stopped his truck near them. They say a woman
got out of the truck and began arguing with Gay
. Gay then took a "bolt action long gun" out of his toolbox and went to the back of his truck and continued arguing with the woman. That is when witnesses say Gay fired his weapon and the woman fell to the ground.​
​
According to a May 2011 report from THV 11, Gay served
less than two years for killing his father-in-law
.
He was sentenced to 20 years for the murder of his father, but served only eight.
Gay has pleaded not guilty to the most recent charge.
The Garland County Prosecuting Attorney's Office was unable to comment due to a gag order on the case.
The Ouachita National Forest spans 1.8 million acres in central Arkansas and southeastern Oklahoma, according to the United States Department Of Agriculture.
Link
Ummm how come he didn't get life for the second murder?