Punitive damage phase to start next Tuesday, which could increase the damages to $33 million.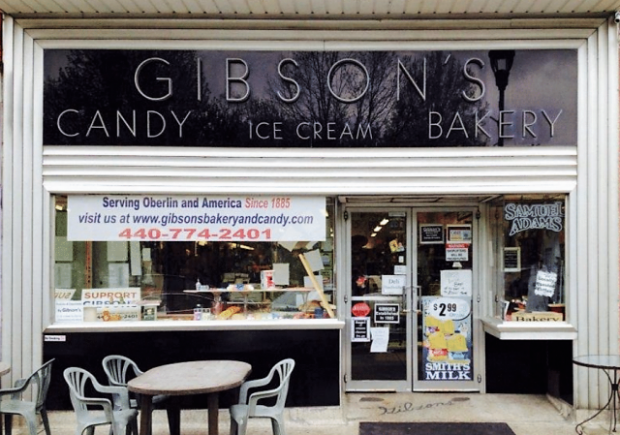 The Jury in the Gibson's Bakery v. Oberlin College case has reached a verdict.
According to our reporter in the Courtroom, the jury awarded $11 million. Here are the details: Allyn W. Gibson awarded $5.8 million, David Gibson #3 million, Gibson Bros. $2,274,500. Next Tuesday there will be a separate punitive damages which could be a double award (meaning tripling the $11 million to $33 million).
According to Dan, Meredith Raimondo was held liable on the libel but not the other counts. We are still sorting out what that means in terms of damages against her.
We will have interviews and video later. We will update this post as more information becomes available.
BACKGROUND
For background on the case,
see here
.
The plaintiffs are Gibson Bros. Inc. (the Bakery), 90-year-0ld Allyn W. Gibson, and his son, David B. Gibson. The defendants are Oberlin College and its Dean of Students, Meredith Raimondo.
Here are the counts that went to the jury:
Count 1: Libel
Count 3: Tortious Interference with Business Relationships
Count 4: Tortious Interference with Contracts
Count 6: Intentional Infliction of Emotional Distress
These are the jury interrogatories the jury had to follow to reach a verdict:
Gibson Bros Inc. Jury Interrogatories
Allyn W. Gibson Jury Interrogatories
David R. Gibson Jury Interrogatories
The short version of this story is that the day after the 2016 election victory by Donald Trump, a black male Oberlin College student was stopped for shoplifting wine at Gibson's Bakery and Market in downtown Oberlin, OH. Gibson's had been in existence since 1885, was frequented by students, and also provided baked goods to the college dining halls. A scuffle ensued that was joined by two black female Oberlin College students accompanying the male shoplifter and apparently acting in concert with him. All three eventually would plead guilty to shoplifting and aggravated trespassing, and would avow that Gibson's was not engaged in racial profiling.
But before those guilty pleas, students at the college immediately declared that Gibson's was guilty of racial profiling, and large protests were organized outside the bakery. Flyers were passed out claiming Gibson's was "racist" and had "a long account of racial profiling and discrimination." The Oberlin College Dean of Students Meredith Raimondo allegedly participated in handing out the flyers in front of the bakery. The Oberlin College Student Senate also passed a resolution claiming Gibson's "has a long history of racial profiling and discriminatory treatment of students and residents alike." The college administration allegedly helped spread this student senate resolution.
Students started a boycott of the bakery, initially joined in by the college. The college eventually resumed business with the bakery, but then terminated that business after the lawsuit was filed.
Gibson's and its owners sued the college and Raimondo for libel, tortious interference with business relationships and contracts, intentional infliction of emotional distress, and trespass. Gibson's alleged long-term damage to its business and reputation for the allegedly defamatory accusations and other torts. The plaintiffs in closing argument asked the jury to award $12.8 million in compensatory damages.
Here are our some of our posts when the protests against Gibson's started, along with the early litigation history:
Link
Other posts about the trial at link
7