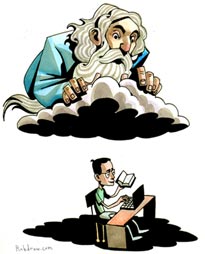 God (and the devil) is testing Fez to see how his faith holds up. It's clear that Fez Marie Whatley is a modern day Job.
The book of Job raises and age-old and yet frequently asked question of today, of "Why do the righteous suffer?". Job provides an unique and often mis-understood answer. The message of Job if vital to us today as we try to do right, and yet find that despite best efforts, sometimes problems and suffering follow. Job appears to be a non-Israelite, and while his knowledge of God is incomplete, he certainly knew enough to have a faith relationship with Him, and to live a moral life. Job viewed God as personal and at the same time, transcendant. God is beyond nature, and yet master of the world He made. God who created mankind, also permits freedom of choice, and thus makes men morally responsible.
So what should Fez do to get into God's good graces?