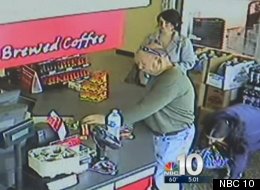 Stephanie Paparo
If you find money on the ground, it's your lucky day, right?
Not for Stephanie Paparo. And not if it fell out of someone's pocket right in front of you.
The 28-year-old Philadelphia-area resident was arrested Tuesday night on charges that she stole $2,300 in cash dropped by a fellow shopper at a WaWa convenience store. Surveillance footage from the store captured a woman grabbing two wads of cash that fell from a man's pockets while he paid for water and a snack,
NBC Philadelphia reported
. Numerous anonymous tips led police to Paparo after the footage was broadcast on the local news.
Jim Duffy, the victim, had planned to use the money for a down payment on a new car,
according to local broadcaster WWLP
. The station reports that one of Paparo's friends said she'd fallen on hard times and "just made a mistake." Police did not note any evidence of premeditation on her part, nor did she have previous arrests.
Paparo confessed, police told the NBC affiliate, and told authorities she spent some of the money on her three children and used the remainder to cover overdue rent with her boyfriend.
Paparo has been charged with misdemeanor counts of theft and receiving stolen property and was released on $10,000 bail,
the Philadelphia Inquirer reported
.
"She saw it. She knew whose money it was," Upper Darby Police Superintendant Michael Chitwood told the paper. "She didn't make any effort to return the money to the individual. It's a theft."
Link
Enjoy her
FB
for now...