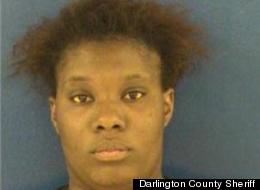 Hope Hawkins
HARTSVILLE, S.C. -- The mother of four young children who died in a South Carolina mobile home fire this week was arrested Thursday night and charged with unlawful conduct toward a child, authorities said.
Darlington County Sheriff Wayne Byrd tweeted on Thursday evening that 21-year-old Hope Hawkins had been arrested on the charge and that other charges were pending. He plans to talk with reporters Friday morning.
Coroner Todd Hardee on Thursday identified the children as 10-month-old sisters Myasia and Kynasia Hawkins. Also killed were their brothers, 2-year-old Camaron Mason and 4-year-old Delonta Dixon.
Authorities said that when firefighters arrived Wednesday afternoon, Hawkins was standing outside pleading with them to save her children, who were inside the home. Firefighters were unable to save the four, who died of smoke inhalation.
Sheriff's office spokesman Capt. Andy Locklair said he did not know whether Hawkins has an attorney.
It took firefighters less than 10 minutes to put out the fire near Hartsville, a city of some 8,000 people that's about 60 miles east of the state capital of Columbia.
Authorities are still working to determine what caused the fire. Investigators have said they are not sure where the children's mother was when it started.
Hartsville Mayor Mel Pennington says the community will hold a candlelight vigil in honor of the children 8 p.m. Friday at Centennial Park.
21-year-old Hope Hawkins/and three different sir names for the kids. -
Way to break that stereotype
Link
Oh and shockingly her
MySpace
page...