Mary Winston Death: Osmond Ignatius Winston Gives Self Up In Neglect Case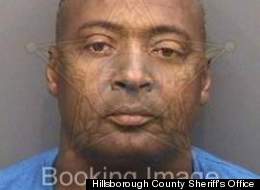 Mary Winston was left in bed so long her legs fused together, and now, her son has surrendered to Florida police investigating the 66-year-old woman's death, local papers report.
Osmond Ignatius Winston, 45, was booked into the Hillsborough County Jail
last week on an aggravated manslaughter charge, The Tampa Tribune reported.
His mother died in October 2012
, according to WTSP.
Officials say the Tampa woman had been confined to the bed for three years with rheumatoid arthritis, and her
bed sores were so severe that her rib cage was exposed
, WFLA reported.
Maggots were found inside and outside her body, and her legs had fused together.
"It eventually got to the point,"
Hillsborough County Sheriff's Spokesman Det. Larry McKinnon told WFLA, "where [her family] knew that the neglect was of such a severe nature, that they became afraid to report it because they knew they would have some criminal liability in it."
Doctors ruled the death a homicide, but it took months for deputies to file aggravated manslaughter charges against Mary Winston's family members: Her husband, 67-year-old Osmond Montgomery Wilson; her daughters, 39-year-old Belinda and 43-year-old Hyacinth Wilson; and her son, Osmond Winston, Jr.
Mary Winston's husband and daughters were arrested in late June.
Aggravated manslaughter of an elderly person can be punished with up to 30 years in prison.
Link